Realidades paralelas en Territorios salvajes III
Parallel Realities in Savage Territories III
2021-2022

[ES] Realidades paralelas en Territorios salvajes plantea una resignificación del mundo de la naturaleza invadiendo espacios creados y habitados por los humanos (Hogares). Esta nueva realidad ocurre en un futuro incierto y en una simbiosis entre la naturaleza y estos territorios. Podemos vislumbrar personajes de característica de Estatuaria mutante articulando escenarios tenebrosos e inestables, con forma de esfinges y en muchas ocasiones, presencia de Rituales dentro de un sacrificio ornamental. Son criaturas anhelantes de vestuario, un orden que funciona como nave anacrónica y exquisita.

El esgrafiado acompaña esta invasión de la fauna que ingresa en estas superficies. En muchos de estos escenarios también reaparecen objetos y como decía anteriormente ornamentos antiguos que también se mimetizan con rostros humanos volumétricos en formas de máscaras inmóviles y con los propios espacios que interactúan con los personajes.


[EN] Parallel Realities in Savage Territories proposes a resignification of the world of nature by invading spaces created and inhabited by humans (Homes). This new reality occurs in an uncertain future and in a symbiosis between nature and these territories. We can glimpse characters with the characteristic of mutant statuary articulating tenebrous and unstable scenarios, with the shape of sphinxes and in many occasions, the presence of Rituals within an ornamental sacrifice. They are creatures longing for costumes, an order that functions as an anachronistic and exquisite vessel.

Within the formal languages of this series, sgraffito accompanies this invasion of the fauna that enters these surfaces. In many of these scenes, objects also reappear and, as I said before, antique ornaments that also mimic volumetric human faces in the form of immobile masks and the spaces themselves that interact with the characters.




Jardín utópico - Acrílico sobre papel - 100 x 70 cmts. - 2021
[EN] Utopian garden - Mix media on canvas - 100cmts x 70cmts - 2021
Conventillo anacrónico - Lápiz y esgrafiado sobre papel 70 CTMS X 100 CTMs - 2021
[EN] Anachronistic and precarious home- Mix media on paper-70 ctms x 100 ctms - 2021
Vidriera en tierras movedizas - Acrílico y esgrafiado sobre tela - 200 ctms x 150 ctms - 2021
[EN] Stained glas son shifting ground - Mix media on canvas - 200 ctms x 150 ctms - 2021
Nacimiento y ritual en un dormitorio agreste - Acrílico y esgrafiado sobre tela -
150 ctms x 200 ctms - 2021
[
EN] Birth and ritual in a wild territory - Mix media on canvas - 150 ctms x 200 ctms - 2021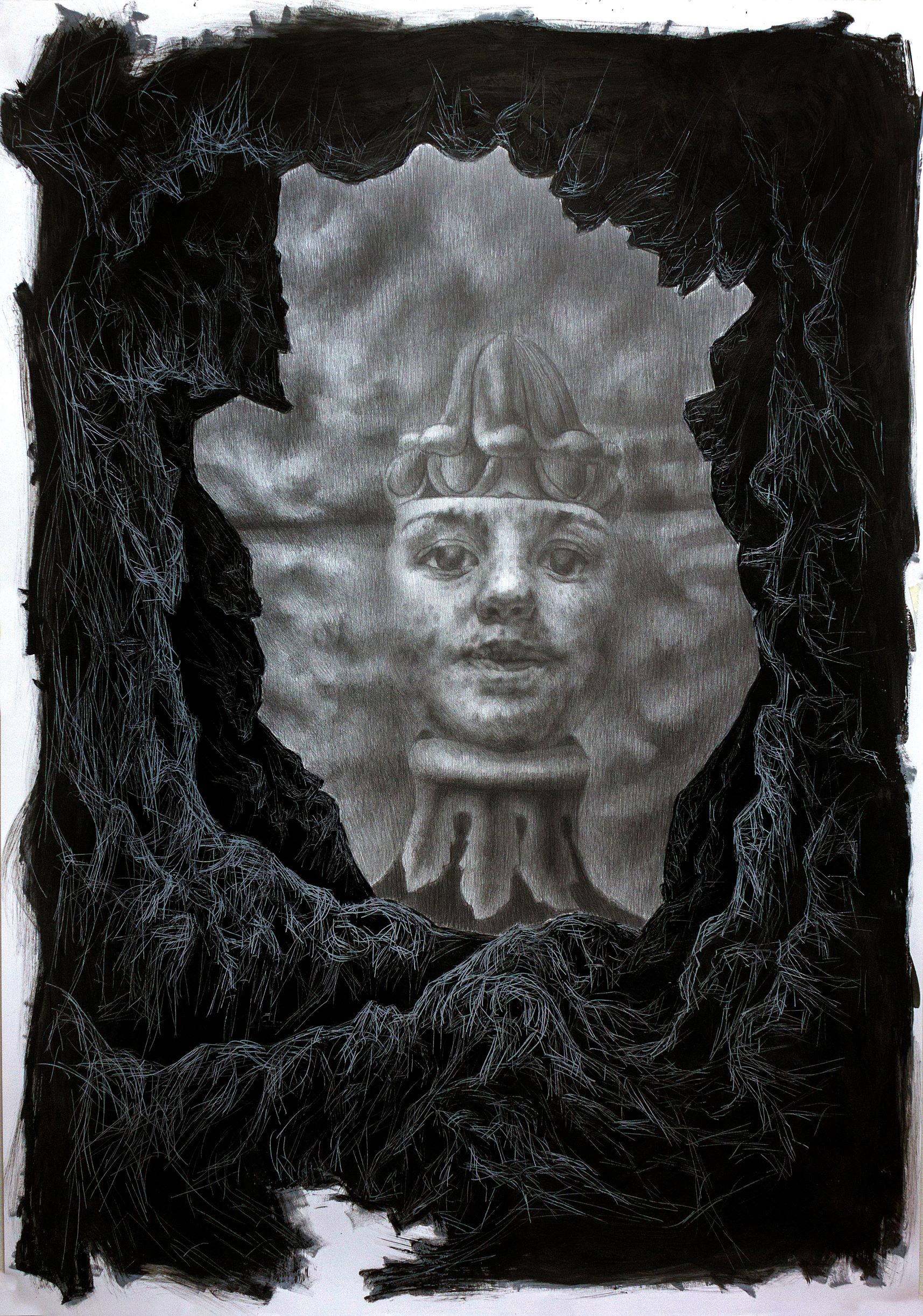 Portal de un territorio idealizado - Lápiz y esgrafiado sobre papel - 100 ctms x 70 ctms - 2021
[EN] Gateway to an idealised territory - Mix media on paper - 100 ctms x 70 ctms - 2021
Ciudad explosiva - Lápiz y esgrafiado sobre papel - 70 ctms x 100 ctms - 2021
[EN] Untitled - Mix media on paper - 70 ctms x 100 ctms - 2021
Reposo en tierra esteril - lápiz y esgrafiado sobre papel - 70 ctms x 100 ctms - 2021
[EN] Resting on shaky ground - Mix media on paper - 70 ctms x 100 ctms - 2021
Vísperas de un portal desconocido - Acrílico y esgrafiado sobre tela - 150 ctms x 200 ctms - 2021
[EN] Eve of a fan unknown portal - Mix media on canvas - 150 ctms x 200 ctms - 2021